THE COLLEGE
JNTUA Oil Technological and Pharamceutical Research Institute (OT&PRI) was established by Jawaharlal Nehru Technoloigcal Univeristy Anantapur, Ananthapuramu. In 2009 PG (M.Pharm) and UG (B.Pharm) 2013 at Ananthapuramu; to provide top class education in rural areas of Rayalaseema. The college is housed in an independent and spacious building constructed as per norms and specifications of AICTE and PCI New Delhi.
JNTUA emphasizes the Knowledge Acquisition, Knowledge Dissemination, Knowledge Application, Knowledge Preservation, Knowledge Evaluation and Knowledge Creation in its vision for development in all these fronts.
JNTUA believes in the observation of American Commission on Teacher Education that states "The quality of a Nation depends upon the quality of its citizens.
The quality of its citizens depends not exclusively, but in critical measure upon the quality of their education; the quality of their education depends more than upon any single factor, upon the quality of their teacher." With this spirit, the University will play a key role in educating the teaching fraternity too by establishing Faculty Development Institution that ultimately leads to the enrichment of Teaching-Learning Process.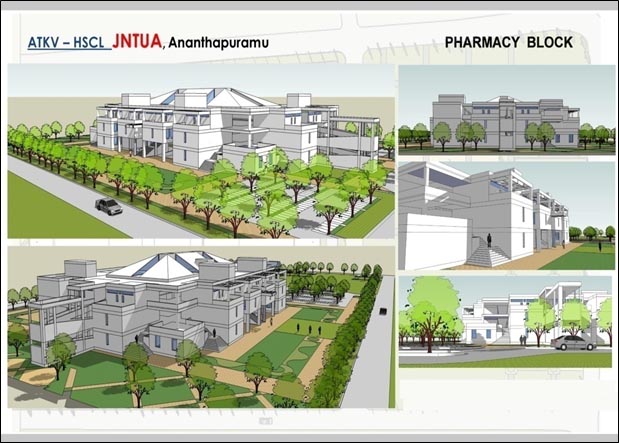 SAILENT FEATURES
Located in the lush green pollution free environment.
Highly deciplined and ragging free environment
Qualified and experienced faculty
Well synchronized and streamlined schedule for lecturers and examinations.
Special counseling and academic attention for slow learners by senior faculty members.
Fully equipped with spacious laboratories
Separate computer laboratory
24hrs 32MBPS internet facility
Personality development programmes and Guest Lectures by eminent personalities of pharmacy proffesion
Separate hostel facilities foe girls and boys
Well organized Medicinal Plant Garden and Drug museum.
Personality Development and Guest Lectures by eminent personalities of Pharmacy profession.
Programmes with special attention to first year students based on academic performance.
Special counselling and academic attention for slow learners by senior faculty members.
Organization of social welfare programmes.
Spacious sports field.